What Do Event Production Companies Do?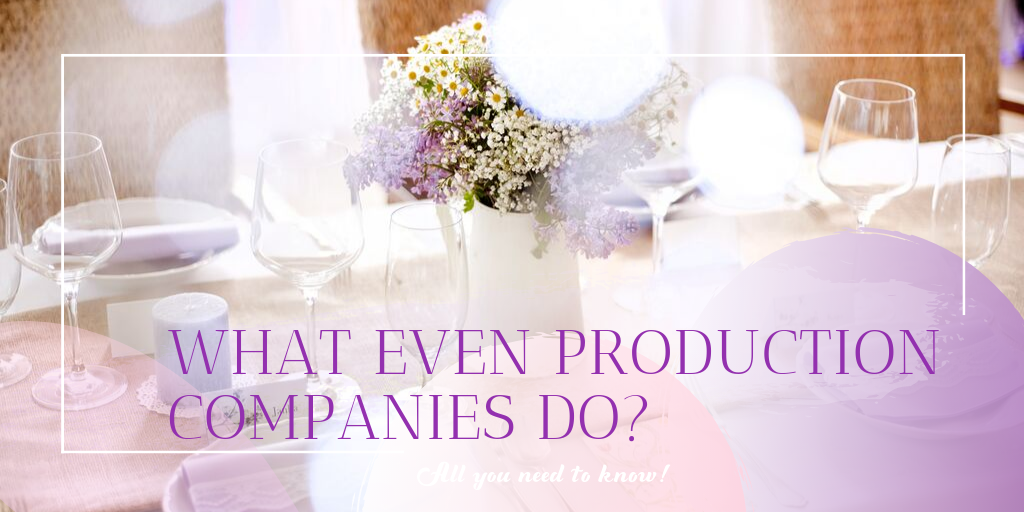 Hello, Event Planners! If you are reading this, you have either decided to pursue a career in event planning, interested in the details that come with event planning and production, planning an event yourself, or simply trying to learn about the business. Look no further, we've got you covered on the ins, outs, do-s, and dont-s.
Event Production Companies produce, manage, and apply project management to create and develop small and large-scale events for a variety of entities. Festivals, conferences, ceremonies, weddings, formal events, social events, concerts, and conventions are just some of the visions that get brought to life thanks to event production companies.
Planning
Event production also means providing consultation on both the front and back end of the event you are creating for your client. Designers, sales reps, marketing specialists and handymen are all vital tools to ensure a successful event. Event producers know how to identify what message needs to be conveyed, the concept and end result to focus on and planning the technicalities and risk that come with production faults. Being a problem-solver, troubleshooter, and critical thinker is vital to being a successful event producer.
Communication
As an event producer, you are 100% accountable for every request the client asks for, and accurately answering all and any questions they have throughout the process. In order to be successful in the event industry, you need to have exceptional public speaking, customer service, and interpersonal communication skills. It is common that you often work with customers who change their mind, so be sure to have constant contact with the people you are working for, to ensure that every detail is to their liking. Relationship building is a vital tool in this industry, and clients can easily notice when your team put passion and hard work into their special day.
Design
If you are an event designer working for an event production company, always remind yourself that the skies the limit. Push yourself to the next level, take risks, and create the unimaginable. This is a go-getter industry, and in order to see change, you need to be the change! Unsure of how to contact an event production company? Look no further! As there are many national registries for soon-to-be brides and people celebrating a special day, some of the best directories to use (my personal favorite) is PartySlate. PartySlate is a tool that helps you manage your vendors, interact with other users, and get in touch with local businesses in your area to assist you with any event planning needs.
Creativity
To maximize on the originality of your event, be sure that you and your company stay in the know with the latest trends and keep all social media accounts current. Consistency is key in event planning, and keeping your accounts up to date creates a sense of legitimacy and trust when gaining a new account.
Services
Most event planning companies outsource to partner companies for the services they do not provide. That can be floral arrangements, LED lighting, technology, smoke machines. The list goes on and on! Here at Visual Comet, we are a fully staffed, in-house service provider, making all of your needs a one-stop-shop, and the concept of having one major point of contact for all your event needs an enjoyable and pleasurable experience.
While many people are quick to assume they can facilitate events on their own, there are many downsides to not using an event production company. The benefits of taking advantage of event production services are endless. A successful, well planned out event is a phenomenal marketing tool for companies and a stress reliever to the average civilian. Successful events result in not only client retention, but seeing your vision successfully come to life is the biggest victory of all.
Business and Corporate Events
If you are the owner of a startup and seeking exposure, utilizing event production services can maximize profits and give your company's reputation a step in the right direction. Event production companies have one goal- to entertain! Adding a fun company culture aspect can lead to beneficial press coverage and success in your business to come. In-person communication is, and always will be, the most successful form of business and relationship building.
Career
Event Production also makes for an exciting and thrilling career. If you are a recent graduate seeking a fast-paced, "no two days are the same" kind of career, this may be a perfect fit for you. The best kind of event producers are those who are entertainers themselves and have a passion for bringing a smile to people's faces. However, you still need high attention to detail, strong analytical and computer skills, and the ability to manage multiple projects at once. Think you're up for the challenge?
Visual Comet takes pride in treating each event as its own and making sure no two events are the same. Taking the same prop and being able to turn it into something different for each client creates a personalized and intimate experience, showing you that your opinion matters and we are here to service you in every which way we can.
Some of the services we include but are not limited to are as follows: LED lighting, audio/visual services, custom activation, virtual reality, interactive technology, floral arrangements, floor plans, and much more. Our state-of-the-art facilities make for a beautiful event, and we are happy to serve you.
No matter what, at the end of the day, life is about having fun and making memories with the people you love. So why not make those memories at a beautiful event?! Thanks for the read, and stay tuned for weekly blogs every Thursday!