As an event planner, an event planning checklist is the main source of knowing what you need for your event and what is getting done (or not) in a timely and efficient manner. As most planners know, event planning is stressful. So stressful that it was nationally ranked by Forbes as the fifth most stressful career.
Event management companies can assist you in the facilitation and planning of your event, from the staging setup (if your event requires that), audio/visual, lighting, and any other specific services that you may request upon the date of your event. No matter what it is, an event planning checklist is one of the most important and vital tools all employees of an event planning company will need to utilize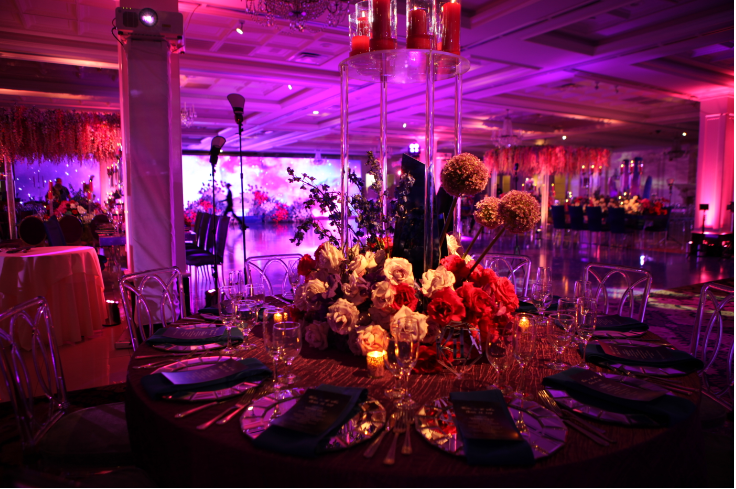 throughout the process of working for a client and their event vision.
However, there are many tools and resources available to all planners across the board to lessen the stress and make the event planning process easier. While the standard media platforms and systems (like Facebook, LinkedIn, Google, Mailchimp, and Bizbash) are there for you to increase event exposure, there are also more niche services specifically tailored for the event community like Tripleseat, Goodshuffle, and Eventsquid. These services allow you to track event progress, rental services (if any), and inventory check-ups for clients requests.
So, when you secure your clients contract and know their budget, Where exactly do you begin? We understand that getting right into the decor and the creative is the funnest part, but unfortunately there are many coordinating roles and logistical obligations that must be handled first. So, we got you covered. We all know that planners need to get to work, and FAST. At the minimum, you need to follow these steps and tasks from the jump. Take a look at what Visual Comet believes is a useful and beneficial checklist for all sorts of planners across the board!
1. Understand the Events Objectives and Overall Goal
Is this a free event or will there be tickets? If so, what will the tickets cost?

Where is the event?

How much of a profit does your business hope to bring in from this event?

What is the overall purpose of this event?

Is there an option for virtual attendees?
2. Decide on a Budget
Build rapport with your client and make them feel comfortable with how much they are spending, and where their money is going too. Communicate! Does your client want to splurge on centerpieces? Awesome, custom lighting? Stationery? Communicate, be honest, and have fun with it!

Look into similar past events and compare budgets and services

Take educated guesses

Discuss with your design team where money will need to be spent in terms of priority
3. Choosing a Date
Pick a date and a rain check date when planning an event

Plan RSVP's via email or manual cards to attendees with further info
4. Deciding on Venue and Vendors
Which location will result in the best turnout?

How many people are attending? Which venues can accommodate to this?

Does the venue provide Wi-Fi?

Is there

local vendors you can contract through the venue itself? Or do you need to outsource based on your own knowledge?
5. Choose a Theme
Some ideas for inspiration: Casino, 20's, Great Gatsby, Circus, White Party, Moulin Rouge, Animal Prints, Costume Parties, Halloween, Christmas, Movie Recreations, Gala/Red Carpet

For Weddings, use your event planning expertise to help your bride be comfortable with her color palette and the floral scheme she is going with. Provide insight based on the season in which she/he is getting married and make it fun and personalized!
6. Research Keynote Speakers & Sponsors (If Your Event is Promotional or Corporate)
Research other events that had a similar theme and speakers

Solidify the kind of content you want these speakers to discuss

Make a list of speakers

Determine the market rate of your sponsorship packages & ROI behind your sponsors. Ex: is this sponsor going to benefit our business?

Figure out what you can offer your sponsors and your speakers as a thank you
7. Figure Out Your Financial Situation While Making Your Event Planning Checklist
Registration/ticketing

Process behind ticketing and registration (if any)

Determine pricing for these tickets. Research market analytics and see the demand in your event
8. Promote Your Event and Create a Link/Website
Use event marketing tools (ex: Mailchimp)

Promote on social media and word of mouth
9. Secure all Rentals
Audio/visual

Custom activations

Staging

Music

Catering

Security

Event signage
10. Create an Event Schedule & FAQ
Send this schedule electronically to all attendees and have manual pamphlets at the entrance to the event
11. Send a Newsletter Reminder
Send to all subscribers, attendees, speakers, sponsors, vendors, and the venue itself
12. Wrapping it Up- (This is About 1 Week Prior to the Event)
Update catering company

The venue

Make sure everyone is in the loop
13. Double, Triple Check Everything is Good to Go!
Now, have a glass of wine and finally de-stress! Your event is going to be a major success!
We hope our Visual Comet guide to all things checklist was helpful! Stay tuned for weekly blogs and updates on our latest projects! Thanks for tuning in!