What Does A Wedding Planner Do?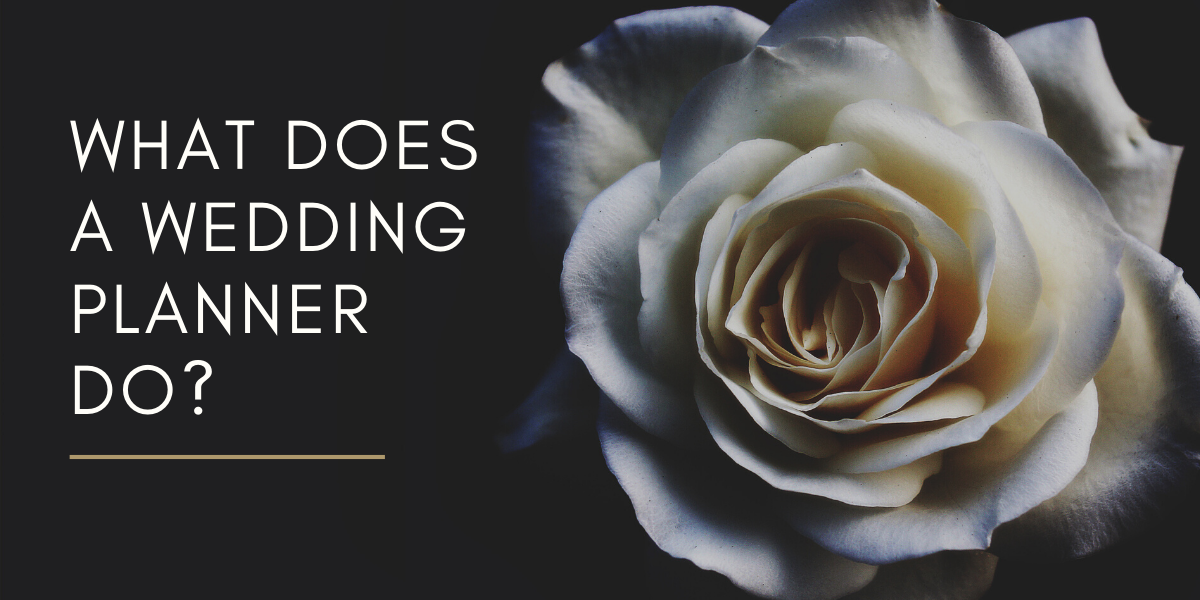 What does a wedding planner exactly do? Well, for starters, more than you think! Below is a list of some of the essential duties and responsibilities that go on behind closed doors.
Managing Wedding Finances and Budgets
Managing your clients event budget is a necessity for all kinds of events: corporate, social, and/or milestone, but when it comes to a bride there are different approaches and responsibilities you take on. Depending on your client, you should have charts and spreadsheets to keep track of when specific payments are due so nothing is ever late or behind schedule.
As a soon-to-be bride or groom, you need to talk to your spouse about your expectations firsthand before even hiring a wedding planner so you are both on the same page and both aware of the spending at hand. Also talk with family and friends to see whose contributing towards all the services and last details of your big day.
Once that is squared away and the client hands off all event planning guide duties to his/her event planner, get organized, get excited, and get ready for a hectic and crazy ride! All event planning specialists should utilize their own personal way of managing finances for their client. Getting the total number of spend money off the bat helps with explaining to the client the value of services and where chunks of his/her money will be going to and how we can move around some finances based on event needs or special luxury add-ons you choose to have at your wedding. As a planner, it is our job to understand where your money wants to go. Do you want to splurge on an expensive, custom made gown? Or do you want to invest into lavish centerpieces and a special menu with a cocktail hour? Communicate with your planner so we can assemble multiple packages that tailor to your needs.
Offer Design Elements and Offer Expertise
This is what being planning an event is all about! While the client may have an event planning guide with ideas and photos of what they want, don't be shy to offer alternatives of what you think will look best at the event. While planners do handle the logistics and operations of the client, we are also the creative force behind creating an aesthetic fit to your wants and budget. Full-service planners include design services that can aid with color palettes, rental services for production needs, lighting, ambiance, floral, and an overall theme that will carry throughout the duration of the night.
Wedding planners can guide the clients based off their own experience while also focusing on the coordination and managerial aspect of arranging and facilitating all services. The venue, the theme and style, and the overall color scheme MUST coexist with one another gracefully or else the vision and the atmosphere of the room will not come together as it should.
Sending out Invitations
Most people don't want to deal with the burden of stamping each individual invitation, and probably having to ask friends and family to help with DIY assignments. Wedding planners can do all the work for you in this regard, and we can also help with the design of your invites so you can put your attention to other things in the wedding planning process.
Planning for the Guests
When it comes to the wedding weekend, the bride wants everything to go exactly as she envisions in her mind. This may be stressful for a planner, but if you take all the necessary steps everything should pan out accordingly. The planners can coordinate details like travel, hotel room, if the resort requires an overnight stay, day-of transportation, and welcome goodie bags in the hotel room to create a sense of intimacy for the guests to feel excited about the party, and that they are also getting their money's worth. Cause, we all know, weddings aren't cheap for both the couple and the attendees.
Oversee Production
Production in an event can mean many things. Mainly, it is the audio/visual services at your reception, the DJ/Band you hire, and all or any other production-like technology that you rented for your big day. Although you may outsource to specific production companies, make sure that all hands on deck are doing sound proof checks and tests before the event because any technological malfunctions can lead to a major setback and failed event.
Help with Photography and Stationery
Without question, your event planning team will closely work with your wedding photographer to stay on schedule, but we can also assist with the set up of the photos. As the planner, we can help with making sure that every piece of hair is in tact, that your veil and gown are sitting properly on your body while the photographer works his magic, and lastly, to style your paper products and keep in touch with the photographer at all times to stay prompt with timing.
Choosing stationery may seem like a quick and easy task, but there are more parts to this aspect of planning a wedding than you may think. The planner can help you pick designs, order, and send out your save the dates, invitations, RSVP cards, rehearsal dinner information, place cards, table chart, thank you cards, and customized additions such as name tags on glasses and sweet mementos for the bridal and groomsmen party.
Etiquette Guidance and Assistance
Listen, every family has their traditions, their cultures, and the need to please. All of this is also OPTIONAL, based on your background, family values, the budget, and the personality you have. Be prepared for the tricky and potentially unsettling questions such as "Plus ones," "When will invitations be sent out?" "How do we do the seating chart?" DO NOT FRET! Your wedding planner will be able to handle all stresses, create a warm and welcoming environment for you and your spouse, and ensure all guests are handled with proper etiquette and there are no loose strings or unnecessary drama!

For more information, check out our Instagram page at @VisualCometNY!