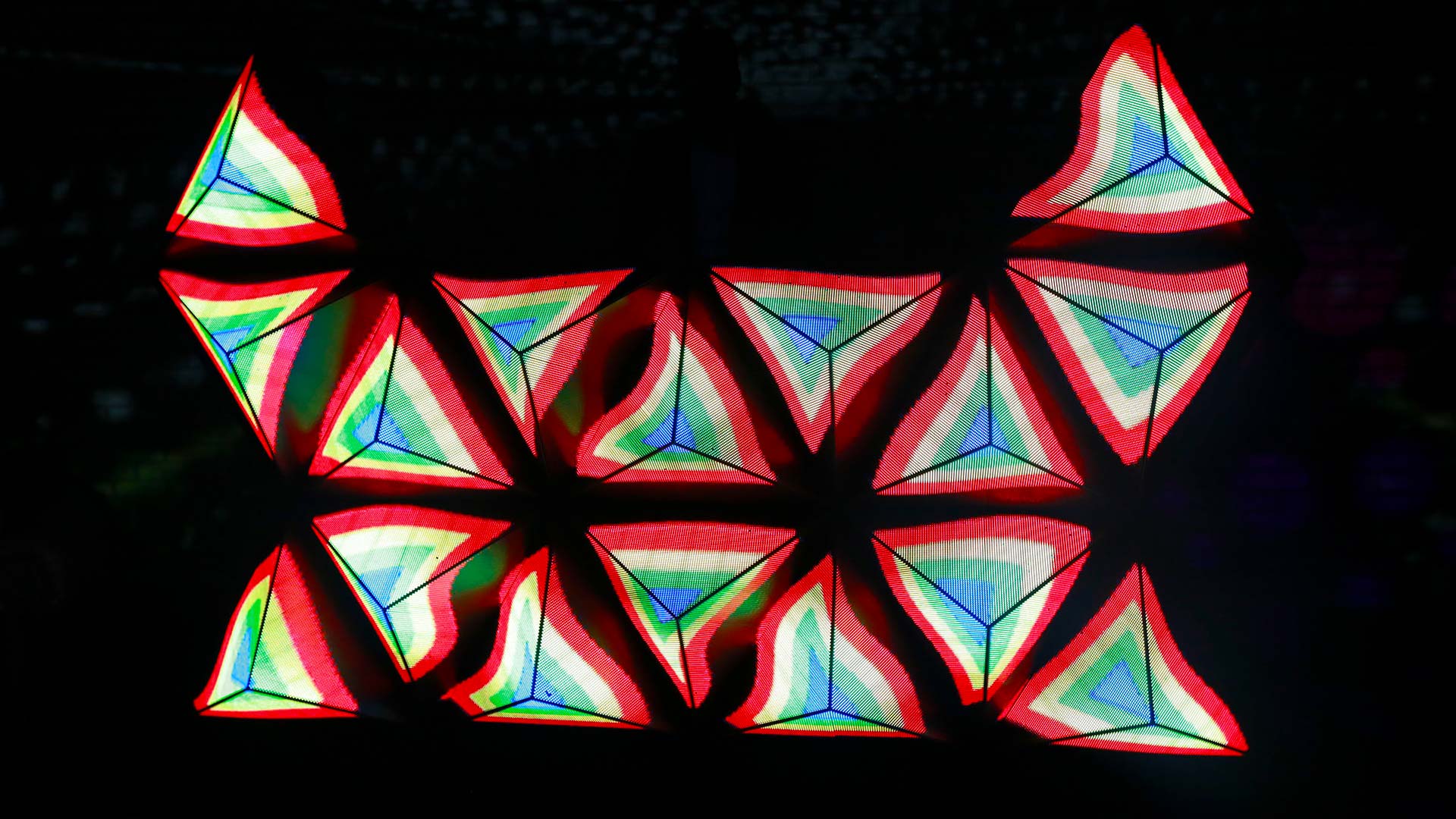 What is the most enjoyable element of your role as the CTO at Visual Comet and why?
I truly enjoy being given the task of developing new concepts for clients. I spend a considerate amount of time testing out various technologies and the best way to integrate them into build outs to wow our clients. Finding solutions to challenges is enjoyable while creating aesthetically dynamic products balances out both sides of my personality. The Visual Comet team is always selling something new so the wheels in my head are constantly turning as to how to create a stunning display. I am truly fortunate to work here with this fun and effective team!
Video mapping enhances a client's events immensely and Visual Comet has some of the best technology in the industry to execute seamless video mapping projections. What is the most innovative design that you have created utilizing the video mapping projection system and what made it unique?
Our team has been involved in the cultivation of several fabrications, installations, and projection mapping projects. I have thoroughly enjoyed seeing them all transform from the concept to production stage. One that is memorable and captivating was a 160 foot projection mapped wall that we constructed for the New York Rangers. Again, we meet challenges head-on and often take on time-sensitive projects that were refused by other production houses. Our reputation precedes us in the industry. We simply don't give up until our clients are happy. I am fortunate to work alongside a team of dedicated designers, craftsman and overall artistically creative individuals here at Visual Comet.
In the event production world, it can be hectic trying to keep up with one event while developing the concept for the next one. What happens when you have multiple events with different themes and technical needs going on at the same time? How do you move the creative focus from a subdued corporate event to a lavish five-star hotel design concept requiring multiple installations and still deliver on time? Outside of being very organized what's the secret for these types of production and design transitions?
The wheels in my head are constantly turning as I think of new ways to provide efficient solutions for these types of occurrences. I am rather a calm individual, so staying focused and being prepared are tools of the trade that I have always held tight to the chest. I have many years of experience with all technical components of production for various event types, so I always make sure that events occurring on the same day have all the correct technical and creative back-up teams in place prior to the event. If I am not on-site during set-up because of overlapping events I create a very detailed schematic for the team to use until my arrival which helps alleviate some of the ensuing stress of operating multiple events on the same day. It doesn't really matter to me the event type or size, just the execution and delivery of an unique experience for our clients that makes them happy that they chose Visual Comet as the production house.
Visual Comet has a team of expert AV and lighting engineers that take a client's concept and turn it into a visually stunning experience for their guests. These elements set the mood for the event. In the showroom you have a variety of audio visual and lighting demos for clients to experience prior to choosing one for their events, which showroom demo "wows" them the most during their visit?
It depends on the client and event type. We are a fully customizable production house, so our showroom is stocked full of the most innovative technology components on the market place. I would say that clients are very surprised to discover that some of the massive LED screens they pass by in Manhattan daily were installed by the Visual Comet team. Clients also get excited about the video mapping and its ability to create a truly immersive experience for their guests, they love exploring various concepts to integrate this technology into their events. I enjoy the challenge of finding a missing link to create an extraordinary event for a client and turning the concept into a reality.